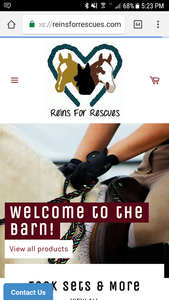 Welcome to the new website!
Well, the wait is over and our new website is up!
We've heard what you have said and taken your suggestions to heart in designing our new site - we hope you love what you see!
We also want to thank all of our customers who have loved their products so much from us that they have sent us their photos or tagged us in them so that we can put them up on the website - we cannot tell you how important it is for everyone to see how our products are used and what they look like in a happy customer's hands!
Additionally, as we move forward with our mission to save more horses/equines, we will be updating you here as well as offering clinics, lessons and products to help all horse lovers, including DAC products. We feel education is a key component to preventing the neglect and abuse of our horses - therefore, our farm, Triple Dream Farm, will be offering activities to that end.  At this point, the farm is listed on www.hipcamp.com as a place to come and camp and interact with us and our rescues!  Check it out under "Triple Dream Farm Campsite" and we'd love to see you (more amenities will be added as we grow).  
So, it's a very exciting time and we'd love for you to come along for the ride!
---